The Softer Side of Mrs. Lingelbaugh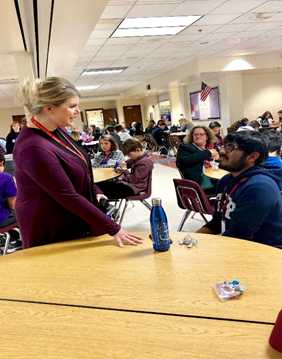 Hang on for a minute...we're trying to find some more stories you might like.
Mrs. Stacey Lingelbaugh is the assistance principal of Team 2022, the students that are currently juniors, and she is in her 20th year with Brownsburg Schools and 8th year at Brownsburg High School. Mrs. Lingelbaugh was also assistant principal of team 2016 until they graduated.
Mrs. Lingelbaugh has been married for 23 years and she has two kids.  What does she do in her free time?
"I like to play around with music, play piano, and ride bikes with my husband, in my free time" she said.
Mrs. Lingelbaugh expects students to follow rules here at BHS.  She is also the same way with her kids, but house are rules are different from school rules.
"I do expect my kids to follow the house rules like being honest, being respectful, taking care of their homework, grades and all," Mrs. Lingelbaugh said.
When she helps her kids at home with homework, she feels part of the teacher in her.
"When you go into teaching, you really go into it because you want to help others learn and grow," she said.
Miss Lingelbaugh is a "take charge" kind of person, but she is not that scary, especially around family and friends.
"No one thinks I am scary at home unless I'm mad," Mrs. Lingelbaugh said. "My kid's friends–they don't go to BHS–think differently about me, like I'm the person who took them to have coffee, made them cookies."
Mrs. Lingelbaugh encourages students to "be respectful, honest, keep pushing yourself to your absolute your best, and appreciate what adults tell you to do because they have a point that you might realize later in your life."
"Whatever you think you want to do, work for that because we get what we work for not what we wish for," she said.