Behind The Falls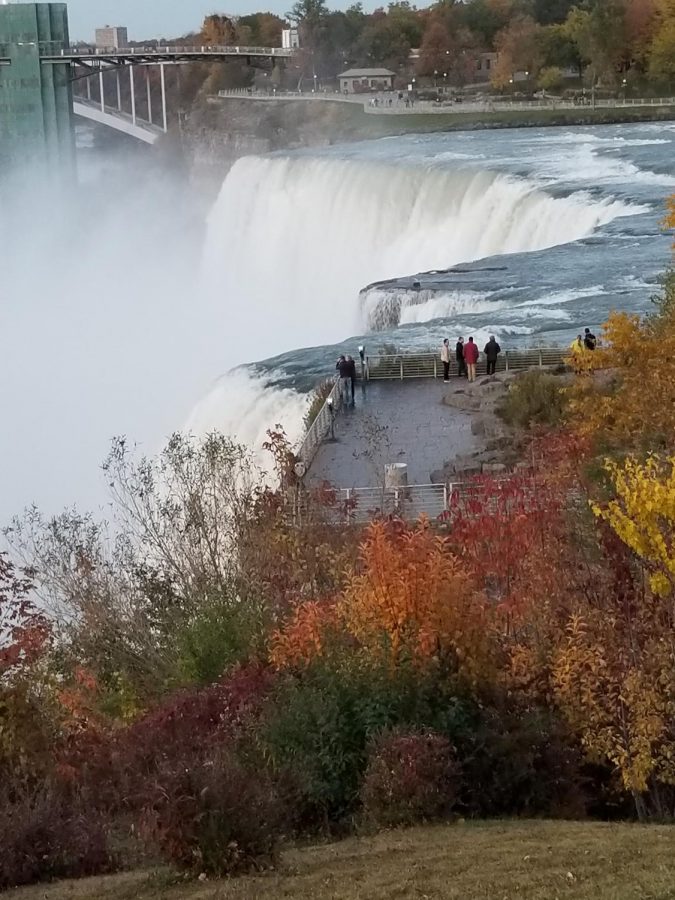 Izz Semich, Editor
November 8, 2019
A couple of weeks ago, my family and I took a vacation. Before that, my father had mentioned how he wanted to go to this one destination. We were all tired of the same-old-same-old, decided to pack up our bags, and hit the road. After an excruciatingly long drive (nearly 11 hours) to this said place, we had finally checked in to our rentable home that we would live in for the next four days. Where was this place, you may be asking? Our official fall break vacation was destined at one of the great geological wonders: Niagara Falls!
Our trip was filled with taking too many pictures of The Falls, indulging at restaurants we don't get to go to often, blowing our leftover cash at the mall, and playing the Nintendo Switch together during the rainy days. On the first day, however, I was able to ride a boat called "The Maid of the Mist", which allowed you to get up close and personal to The Falls. It poured on us hard, getting everyone on the boat instantly soaked. Hopefully I am able to allow you to get up close and person with the history of The Falls, rather than observe from afar.
First off, let's get this right out of the water: No, Niagara Falls was not man-made. It's completely made by nature. People have been able to use man-made technology to put The Falls to good use, but The Falls is not man-made. It's located between the United States and Canada. It's right on the border of New York and Ontario. Both sides of The Falls are so close together, you can practically see all of the poor souls that also decided to get in a boat and ride up close to The Falls.
There are three waterfalls that make up Niagara Falls: There's the American Falls, Bridal Veil Falls, and Canadian Falls (Also known as Horseshoe Falls). Niagara Falls is an overall collective name for all three.
The Falls themselves isn't that old compared to the Earth. The formation all began in the Ice Age. Over time, floods of water were released from melting ice and began to form the Niagara River. Roughly 12,000 years ago, the water dove over the Niagara Escarpment to create The Falls.
The development of railroads and the rail system in the 1800's opened Niagara Falls up. It started to become a prime destination for visitors and travelers from all over the world. Around 1804, Jerome Bonaparte honeymooned with his bride at Niagara Falls, and according to the lure of Niagara Falls history, he is credited with starting the Niagara Falls honeymoon tradition.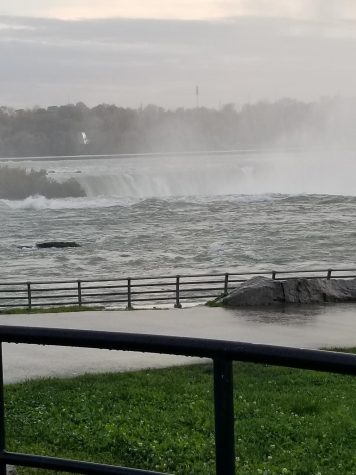 Other than beauty, The Falls is able to provide something that is very important to our society today: electricity. The potential of Niagara Falls began to attract industrialists. They worked to harness its force by using water wheels to drive mills, factories, and power in general.
In 1985, the world's first large-scale hydroelectric generating station opened up in The Falls. It was able to transmit electricity up to 100 yards away. It's impressive, but in 1896, Nikola Tesla was able to make an induction motor that could transmit electricity to as far away as Buffalo, New York.
Over time, Niagara Falls begun to accumulate more visitors and tourists. According to marriottonthefalls.com, there are roughly 30 million visitors a year. Regardless of how much or little they do, or how long they stay, The Falls is able to collect and unite over 30 million people a year. It's crazy to imagine, but is it truly that surprising? With all of the beauty, power, and interesting facts, it's not too out of the water to believe.
Our ride home was long. With a dog that would jump on you while you were in the back seat asleep, and with the length of the drive, it was kind of unbearable. The stay at Niagara Falls? Incredible. It was an amazing experience, and I feel like I have learned a lot during those few days. I'm very happy that I got to see it up close and learn more about the nature of the world. The world is full of wonders and beauty, and hopefully you are able to discover a part of the world that you can enjoy to the fullest.