6 Underground: A Review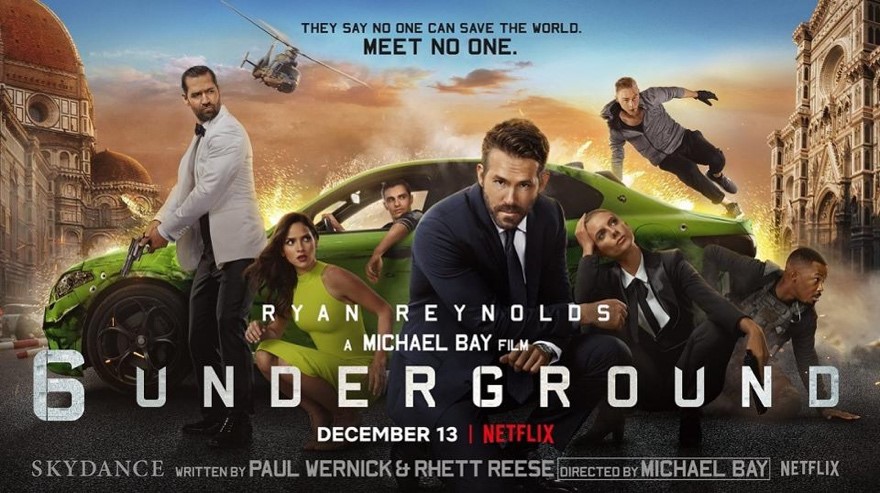 "If you had one shot, or one opportunity to seize everything you ever wanted in one moment, would you capture it or just let it slip?" Now, is this from the hit song Lose Youself by rapper Eminem, or actor Ryan Reynolds in his role of "One" in the new Netflix original 6 Underground?
This new movie has just about everything. From the comedic originality of all that is Ryan Reynolds, to the serious and deadly action scenes of an underground organization. While some of these scenes are a little more graphic for younger viewers, the overall movie is actually quite a good film to watch when you need something entertaining to do.
The film has a variety of well known and aspiring actors, but the overall chemistry between characters is perfect for the type of film it is. This movie may not be for everyone, for those that wouldn't like some graphic action maneuvers and for those that don't like the many comedic breaks; it takes the perfect mix of both of these traits to truly enjoy the show.
Throughout the movie, we get the background of the characters and who they are; however, there are many unanswered questions that still bug me and are hard to find answers to. And with there not being a confirmed possible sequel until, at the earliest, 2022, the movie leaves some things to be desired.
Knowing that there may never be a sequel but also knowing the plot of the movie has multiple targets and missions makes it very unsatisfying to viewers.
Overall, the movie was great and it was a good film to sit with my mom and enjoy at night. I would really like for there to be a sequel, but with the possibility of there not being one, at least for a while, I also kind of wished I hadn't seen it in that it's hard to enjoy a series type of movie that has no series. I believe that the film should have been made into a Netflix series instead to have satisfied the viewers.