Building and Buying Gaming PCs
The gap in between the PC Master Race and the console players have grown tremendously over this Christmas festive season. According to www.pcgamesn.com, a staggering 67 percent of the U.S. population plays video games; a whopping 52 percent of that is made up of PC players. This holiday season, many of our own Brownsburg High School students have peaked interest in buying and building their own PC.
"It is a difficult process to find good enough items to fit your budget, but if you do, you're in a good spot. I picked the parts that best fit the kind of gaming I plan to do. I went with a higher priced GPU (graphics card) and cut the prices on the not-so-important parts like the case and such," said Jamie Cameron, a Sophomore at BHS.
Cameron's parts are coming in later this month, and he will be building it on the 24th of December.
Nate Toney, a Sophomore at BHS, is also looking for a PC to game on but at a lower budget than Cameron. Toney went to his friends in a discord server to ask for advice on which prebuilt PC and/or parts to order for his new gaming entity. His friends were able to help him in choosing a final product that he can upgrade the internals on later down the line if need be.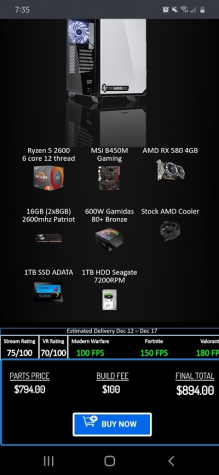 ESports is what is believed to draw the attention of young gamers to start streaming and gaming on these high-end gaming devices. There are various games that you can play on PC, and there are very few exclusives that are on there. While Playstation and Xbox players argue over which console and games are better, the PC gaming community gets along by not having those types of controversies.
The unfortunate end of PC gaming, however, is the price fluctuation due to the high demand with low supply. With the RTX 3090 mishap, those prices have skyrocketed. On another note, the parts on newegg.com, a PC part company website, have fluctuated just from Monday (12/7/2020) to Friday (12/11/2020) making one cart of a build go from $938 USD to $1063 USD.