The Hendricks County Humane Society, Small Building, Big Heart
Located in a little building off Danville's East Main Street is an organization that truly puts their best effort into improving the community. Ever since 1970, the Hendricks County Humane Society has never strayed away from their goal of improving the lives of animals in their local area.
"The mission of the humane society is to reduce overpopulation and improve the treatment of animals in Hendricks County," says Tricia Pierce, operations manager. "We are the voice of the animals."
Pierce has been with the organization for four years and says there are many ways that the Humane Society carries out this vision.
"We have a community cat program where we go out in the community and help people that are taking care of community cats," Says Pierce. "We get them fixed, vaccinated, treated for fleas and then returned back to their location so that they can continue to care for them and be in our community."
Fixing "community cats" or free roaming cats is hugely important in the battle against animal over population. A wild female cat birth up to 150 kittens in her lifetime. One fixed cat can make a huge difference in preventing the over population of cats in our community.
A common issue that leads to the abandonment of pets is the cost of the care for the animal. Many in the community can't afford to take care of the pets they have but are reluctant to give them away.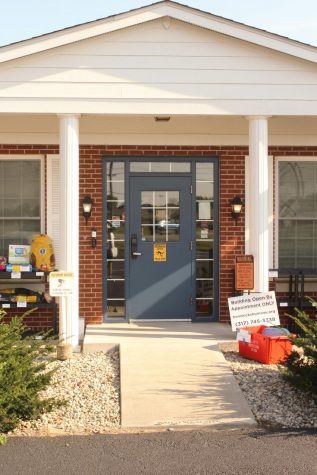 The humane society has come up with a solution. "Our pet food pantry is a pretty big program we have here. We provide dog food, cat food, cat litter and flea medication for the people in the community that need it," explains Pierce. Originally, people could walk into the building and pick out the food and the supplies that they needed, but due to the risk of Covid-19, people are no longer permitted to freely walk into the building. Supplies are left on the front porch of the building for anyone who needs them. "It's been really hard with Covid," says Piece. "The building is open by appointment only now and so the volunteer opportunities are smaller than they used to be, but we still need volunteers."
Even though the demand for the volunteers has decreased, help is still occasionally needed for managing the location. Giving donations is another way to help the organization. Along with fundraising events, the generosity of people has kept the facility in operation.
Lastly, the humane society encourages anybody in need to take advantage of the resources they provide. In uncertain times like these, struggling pet owners need all the help they can get.
"The humane Society is here to help people in the community," says Pierce. "If someone does need help, all they need to do is call us at (317)-745-3338."