BHS Live Team Helping You Stream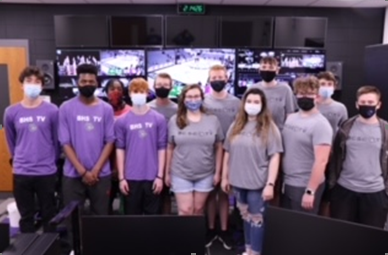 Schools across the nation are opening, and athletics are back underway. Yet coverage for our beloved sports must continue with COVID regulations limiting those who can attend the games, meets and events. Brownsburg High School's very own Live Broadcast team has been hard at work, and their dedication and time commitment has paid off. Within the club and class, it has shown to develop their soft skills and future for the better.
"Last year I joined towards the end of the year, but I loved the experience. Those who were in there prior to my arrival said it would be a good fit for me," senior Max Deater said.
The club gets together for most sporting events and community events, and the crew is very friendly and family based. They have grown close to one another by doing these events together and bonding on their interests.
"When I joined my freshman year, my friends were joining as well. I loved film, and it had to deal with a lot of video production. It is like a bunch of friends spending time together after school to watch the sporting events while also having fun while working," senior Connor Collier said.
"This really builds character and I have met a lot of new people," Deater added.
The live broadcasting crew has really put in the effort to present the best content for their community. It astonishes us that high school kids can make such an impact, but at the end of the day, they are doing their jobs, and it makes families and friends feel better that they can view the events when they cannot entirely attend each event.
"It benefits the community, schools participating, clubs and other Brownsburg hosted events. It is great because anyone can watch from the comfort of their homes," Collier said.
The viewers get confused on where to find the website. BHS Live broadcasting is not like BHS Television, our high school's announcements. The crew focuses more on the current athletic, academic, club and community events.
"We are not like BHS-TV., We focus on the here and now. It is not really on the news that gets presented to the public every morning, night, and during the school day if any. It is different doing each event, and while not liking each event occurs, it is still a wonderful experience to take part in," Collier concluded.
It is great to know that our high school has individuals who really care and put forth the effort to help the community no matter what club or organization they are with, but for the better of the community and viewership of those who cannot attend such events. These students have shown while even improving they put in the work and dedication to provide for those in need of the service.