Becoming an Ultrasound Technician: Harder Than It Looks
Many people have an interest in entering the medical field. However, a problem many find is the high costs for schooling.
A 2020 report issued by the Association of American Medical Colleges found that graduates of medical school left with an average debt of around $207,000 per student.
However, ultrasound technicians only require two years of schooling if they do it through accelerated programs, yet they can make between $50,775 and $71,085. For this reason, the field is extremely desirable. While the comparison may sound good on paper, becoming an ultrasound technician is still extremely difficult.
What exactly does an ultrasound technician do? An ultrasound tech is responsible for scanning patients and identifying medical conditions so they can be treated. This job is extremely important for identifying signs of cancer in the body. Being an ultrasound tech requires extreme attention to detail and good communication skills.
"It's definitely not easy. It's not something you can half-heartedly do… I quit my job after a few weeks in the program because I couldn't balance everything. The amount of medical knowledge you have to know…. It's a lot at one time," said ultrasound student Katie O'Neill.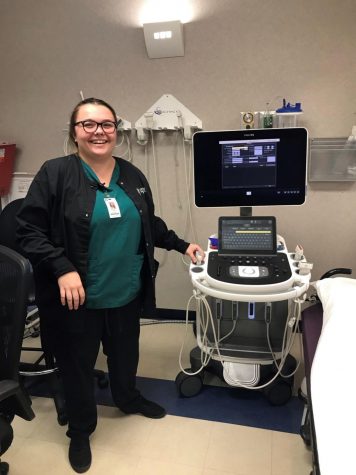 O'Neill first gained interest in ultrasound after the passing of her grandfather. "He died from a tumor on his pituitary gland that was missed on a scan. When he passed away, I knew I wanted to go into healthcare. Then I just narrowed it down from there."
O'Neill is learning to be an ultrasound technician though Ivy Tech's 2-year program. Just getting into these programs can be difficult—acceptance rates are extremely low. "Programs can be very competitive with hundreds of applicants for only a few dozen slots to fill," writes ardorhealth.com.
O'Neill originally wanted to go to a 4-year school but changed her mind. "To go to IUPUI for it, you have to do X-Ray for it first, and X-ray didn't interest me at all…I went to Ivy Tech and did ultrasound completely."
Ultrasound technicians meet new patients almost every day. Due to the nature of the job, they don't gain the close connections that other doctors get with repeat patients. "If you just like helping people, it's a good career path," O'Neill said.
For students interested in helping people stay healthy through the medical field, becoming an ultrasound tech could be a great opportunity to help those in need.