"Underrated" Yet Accessible Rap Albums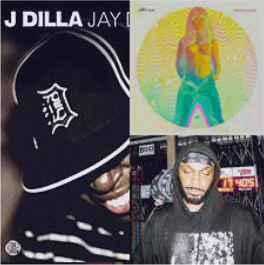 Digital Lows (2011) by Cities Aviv:
I'm genuinely surprised this one never blew up. Memphis rapper Cities Aviv's (A.K.A Gavin Mays) first mixtape is full of excellent flow and catchy beats that I think nearly anyone could appreciate. Mays wears his influences on his sleeves. He samples artists such as Steely Dan, Depeche Mode and Modest Mouse, to create beats that vary from calm and nostalgic to heavy and industrial.
His lyrics show a great cynicism toward modern culture and society as a whole. One of his lyrics on the song "Black Box" reads: "Born in the city where they killed the king/transformed him to a figure now they sell the dream." These heavier themes thankfully never overshadow the irresistible funk of this mixtape.
My favorite songs: "Black Box"; "Beautiful Hell" ; "Doom x Gloom"
Donuts (2006) by J Dilla:
Produced on his literal deathbed, J Dilla's Donuts was released just three days before the legendary producer's death. Packed with raw emotion and creative sampling, this masterwork of the experimental hip hop genre fuses soul, jazz and classical music into an unforgettable experience.
The lack of actual rapping might be a turn off for some, but the layered, soul-filled beats and out-there vocal samples more than make up for it.
This work is also credited with making a lasting impact on the genre, popularizing more eclectic beats in hip hop.
My favorite songs: "Don't Cry" ; "Stop" ; "Last Donut of The Night"
LP! (2021) by JPEGMAFIA:
As far as modern rap music is concerned, rapper Barrington Hendricks (A.K.A JPEGMAFIA) is arguably one of the most consistent in the game. His most recent album LP! solidifies this.
He uses extremely creative beats and sampling, tongue and cheek lyrics and a visceral aggression that only adds to the catchiness of each track. JPEGMAFIA also combines RnB and occasional autotune into his work for a diverse track list.
Unlike the other two on this list, his music doesn't really have many deeper themes. Hendricks is too busy having fun trashing his haters and coming up with hilarious, braggadocious lines. This album is just fun and full of tracks to blast in your car at full volume.
My favorite songs: "DIKEMBE"; "DIRTY" ; "HAZARD DUTY PAY"